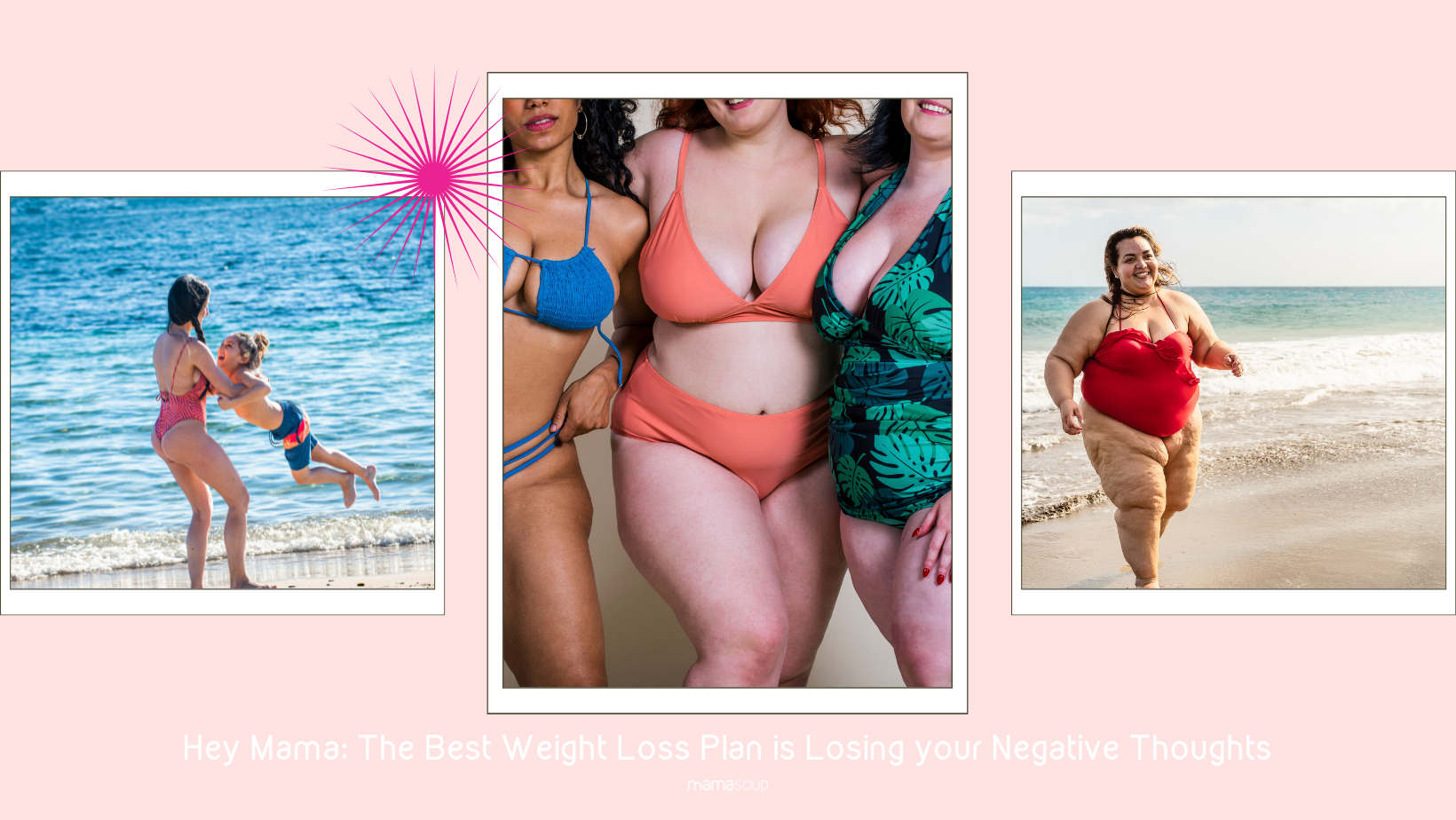 Hey Mama: The Best Weight Loss Plan is Losing your Negative Thoughts
When was the last time you put on a bikini and hung it all out there, Mama?
As moms, we've all let negative thoughts hold us back from doing things with our kids.
Sometimes, it's as simple as wearing a bathing suit and having fun at the beach or pool. Or if you do dare to wear a suit, you obsess about how you look at different angles rather than enjoying the time with your kids.
Believe me- I've been there.
As a mom of four beautifully annoying kids, I've earned the body that I've got: four pregnancies, two c-sections a lack of time and energy to focus on myself and lots of wine have certainly helped shape my plus-sized bod.
To be fair, I never had a hot body.
I see all those social media influencers "accepting" their bodies and I don't relate at all: my mom was taking me to Weight Watchers when I was 11 to lose the extra ten pounds that she had more of a problem with than I did.
I haven't always felt confident; it's taken me years of work to get to the point of accepting my body as it changes throughout my life. Now I love to wear a two-piece because there's nothing worse than trying to peel a wet bathing suit off your body when you have to go pee.
What do you think your kids notice about you, Mama?
I assure you it's not cellulite, saggy boobs or extra skin.
One of the simplest ways I could have accepted my body and saved a lot of heartache was if my mom had just accepted hers. Instead, she said things about herself out loud that I couldn't relate to because to me, she was perfect. If the ONE perfect person in my life didn't think she was worthy of acceptance, how could I possibly think I was worthy?
I'm not blaming my mom. She did her best, just like you and I. But what if we could do better with a little support?
It's never too late to love your body.
Last weekend I had a pool party and my friend came in a two-piece. She said it was the first time she's ever worn one and she's 52 years old! She said she felt really uncomfortable, but I was proud of her because she didn't cover up.
I wasn't proud because she was "brave" to wear it. I was proud because she did the emotional work to put it on in the first place.
For some of us, the work is in stripping down and feeling vulnerable, physically and mentally.
We need new, healthier messages.
What if you could surround yourself with people who can help you undo some of the shitty mental messages you send yourself every day? Maybe help you rid yourself of guilt, anger and shame?
Imagine feeling present, confident and calm while you carry out all of the good and bad parts of motherhood.
Let's face it- traditional social media has fooled us into thinking that we should look or feel a certain "aesthetic", like a perfect bikini-bod. Maybe you're wondering why you can't relate to other moms when you open those apps because nobody is saying what we all know deep down:
Motherhood is 'effing hard enough without imposing impossible beauty standards on us, too.
Social Media for Moms that's Good for your Emotional Well-Being
When I set out to create an online space for moms, it was imperative for me to make it safe and for it to positively impact the people doing life's hardest work: motherhood.
These mandates are why I'm working so hard to connect you with experts who understand and want to help you. People like Heidi from Heidi Martin Wellness:
​
(She had me at "Teen".... those years can be rough!)
Heidi is moderating the conversation under the hashtag: Self Love and with all of those qualifications I can't even imagine how incredible that group chat will go!
If you haven't yet, dive in and say hi to Heidi!
She's just one of the incredible people helping us revolutionize social media, making it good for your health and well-being.
You're important to your kids and they're watching you closely. Make sure you wear the bathing suit, play on the beach and say nice things about yourself. If you're struggling, come and join us on MamaSoup!
Post Gallery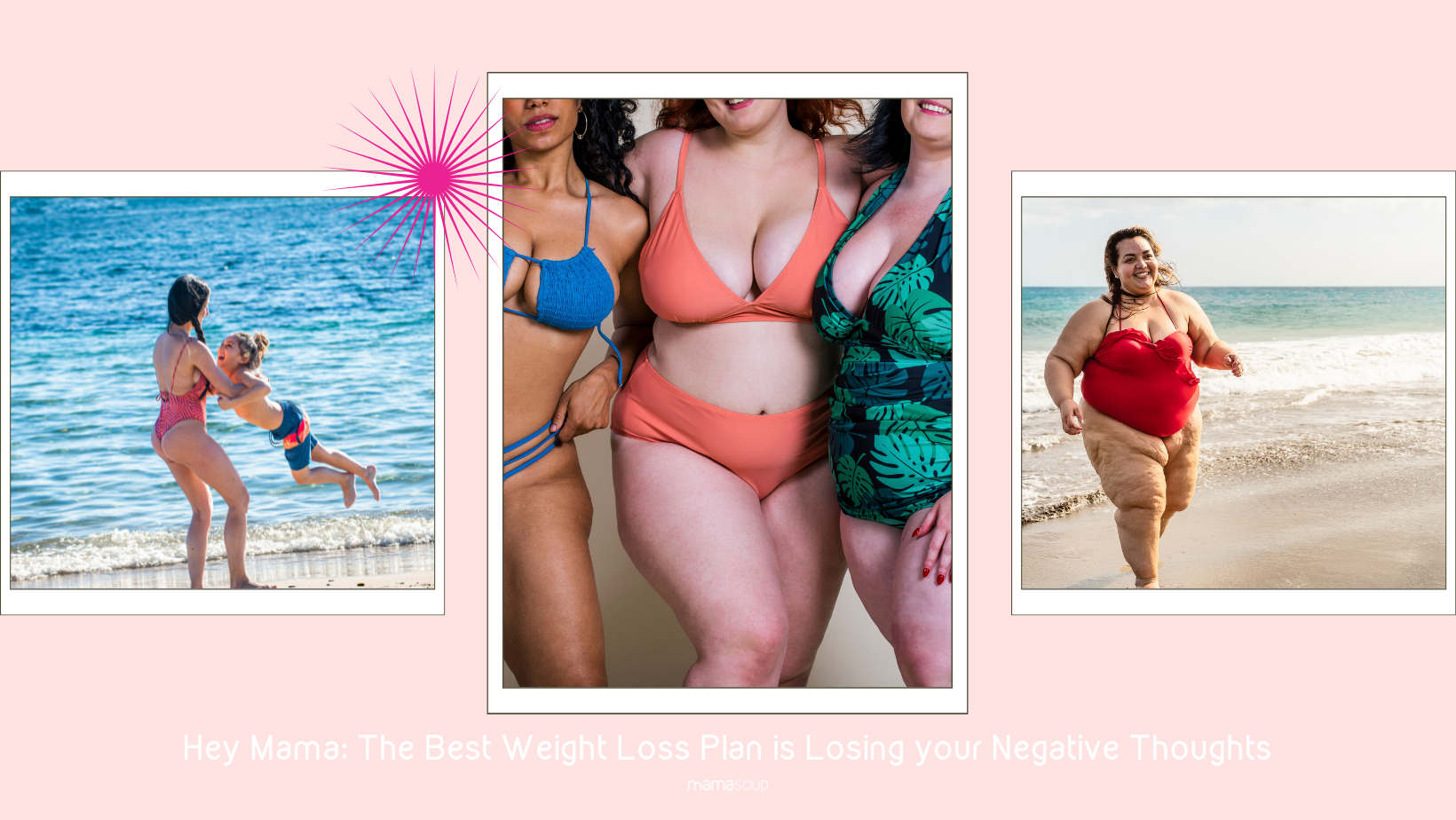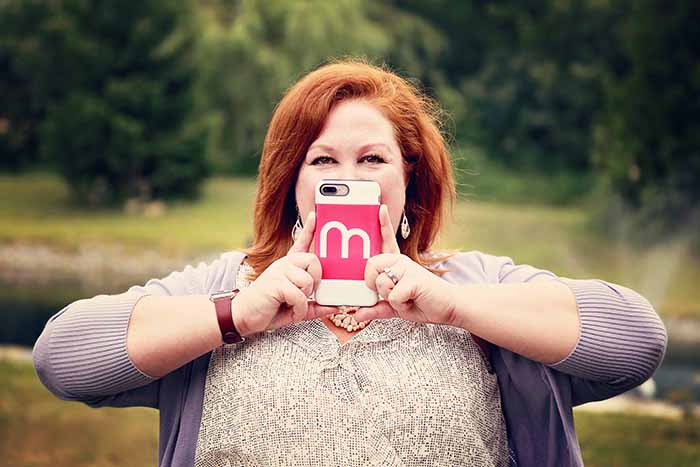 Joanne Ilaqua - CEO of MamaSoup
Hey there, I'm Joanne.
I've spent about 20 years serving women as a nurse, doula and Lamaze educator. I have 4 kids and I know firsthand how lonely and isolating motherhood can be, so I created MamaSoup. I'm mostly known for my love of red wine, spontaneously singing and my confidence in being my true self on social media. When I'm not busy building women up, you can catch me taking Instagram stories of my bulldog Ruby, watching The Handmaid's Tale, playing MUber (Mom Uber) to my kids or vacationing in my favourite town: Cabo San Lucas, Mexico.
I love serving the world by providing a space for moms to connect and support each other. In my opinion, moms are the backbone of communities because they are (literally) raising the future!

As the founder and CEO of MamaSoup, I've been featured on CHEX TV Morning Show, KawarthaNOW, Economic Development- The City of Kawartha Lakes and MyKawartha.

Still with me? Join me over at MamaSoup to keep the conversation going!
Read More