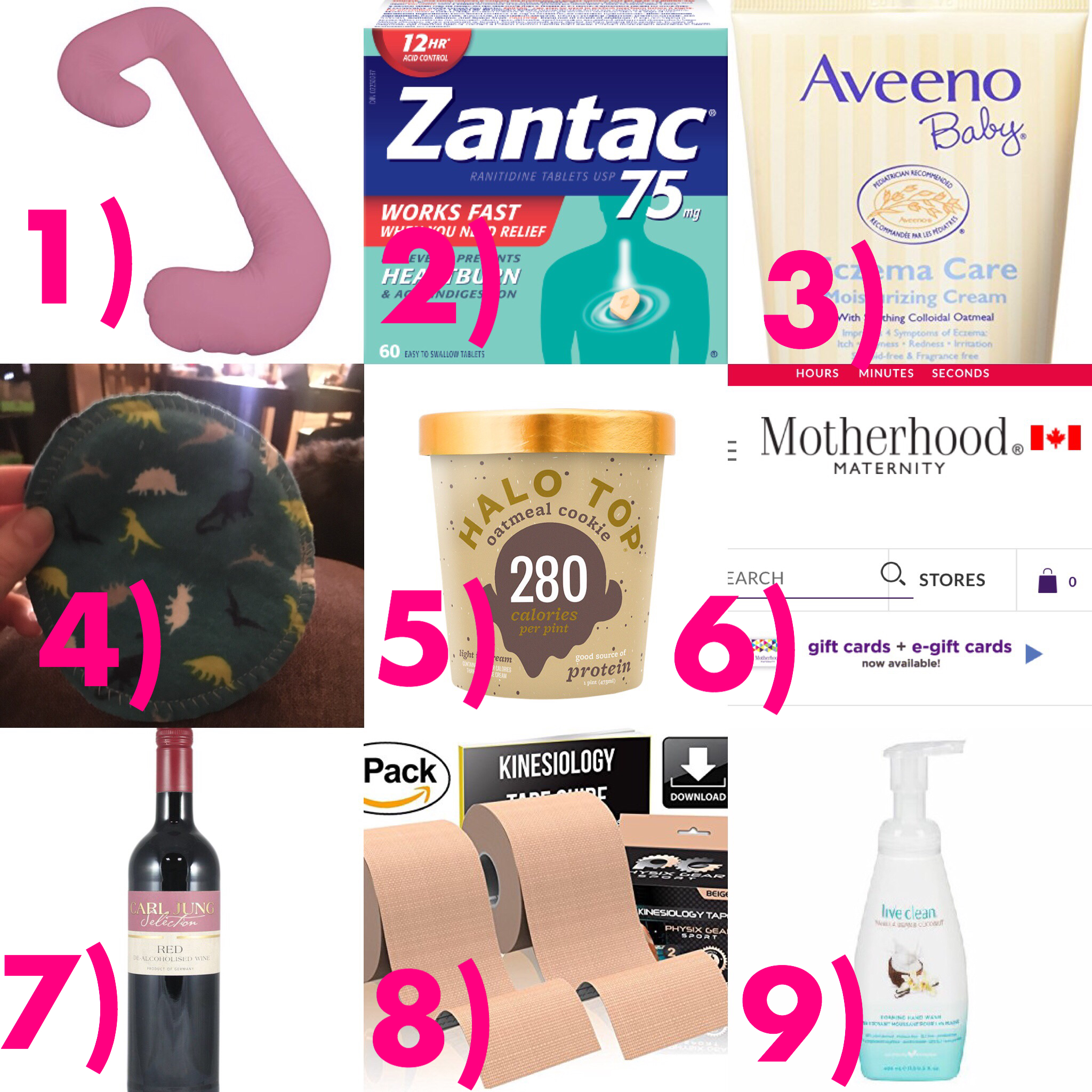 The 9 Pregnancy Essentials I Can't Live Without
Another guest blog by pregnant Mamasouper Nicole Lemke!
I've been trying to have a really positive mindset throughout this pregnancy…we worked really hard to get here, but let's be honest…pregnancy isn't always the most fun thing in the world. Here is my list of products that have made this pregnancy a little easier and relatively complaint-free!
Snoogle Pregnancy Pillow
Around 20 weeks, sleeping became really uncomfortable once I couldn't sleep on my stomach anymore. I thought spending $80 on a pregnancy pillow was insane…that is until after one sleepless night I had a breakdown and caved. I am so, so, so thankful I finally ordered the Snoogle! It literally comes everywhere with me—it's perfect for extra support on the couch and in the truck. Much to my husband's dismay, I can't picture myself ever sleeping without it, even postpartum! The best deal I found on the Snoogle was on Amazon.ca—typically you have to buy the pillowcase separately, but on Amazon the pillowcase is included! You can grab one HERE.
2. Zantac
I wanted to have a medication-free pregnancy, other than the occasional Tylenol for headaches; however, around 23/34 weeks the heartburn was out of control. I got to the point where water was giving me heartburn, sleeping was giving me heartburn, and I still had heartburn with the maximum daily dose of Tums. I wanted an alternative to taking Tums all the time due to the risk of developing kidney stones with so much calcium intake. No home remedies were working, so I sought medical advice. My OB recommended Zantac and it has been such a lifesaver! I can finally eat and drink again without feeling like garbage 24/7.
3. Aveeno Baby Eczema Care Cream
So pregnancy isn't always glamorous…my boobs starting leaking at 17 weeks leaving my nipples very, very itchy when the fluid would dry on my skin—if I could have scratched them off, I would have! Instead of investing in an expensive nipple cream so early on, I found using Aveeno cream did the trick! I have always used this cream for an eczema spot on my hand and swear by it! I pick mine up in the baby care aisle in Shoppers Drug Mart.
4. Cloth Breast Pads
On the note of leaky boobs—cloth breast pads are a must once you start leaking! My mother-in-law has sewn me many pairs of these, but you can also buy them at local baby stores. The bright side of having them made is that you can measure to ensure they fit properly. My husband took one look at mine and said they "may as well be Frisbees"! On another positive note, my breast pads have little dinosaurs on them—so much cuter than the plain white disposable ones you can buy from the store.
(Mamasoup Note: You can buy them from a business local to Kawartha Lakes at Garden of Eden.)
5. Halo Top Ice Cream
Trimester 3 hits and, all of a sudden, after every meal I feel the strong desire to eat mass amounts of ice cream. This is where Halo Top comes in handy! If you haven't tried it yet, you need to. The oatmeal cookie flavour is my absolute favourite. Did I mention the entire pint is only 280 calories? I find mine at Loblaws—it's a little pricey at $6.99 a pint, but so worth it for when those cravings strike.
6. Motherhood Maternity Canada Plus-Size Clothing
Being plus-size and pregnant is hard. Ads we see on TV and in magazines make it look like bigger ladies don't get pregnant—pictures are all of tiny models with perfect basketball bumps. Most maternity clothes only go up to an XL, which doesn't quite do the trick for bodies like mine. There are a few items I have been able to just go up a size in, but choosing this method tends to look frumpy. Luckily I found that Motherhood Maternity Canada stocks plus-size maternity clothing both online and in select stores (the one in the Pickering Town Centre is my favourite). I basically live in their skinny jeans…they are the comfiest jeans I have ever worn! Jessica Simpson even has a plus-size line there. It is so nice having the option of wearing fashionable plus-size maternity clothes.
7. Carl Jung Non-Alcoholic Wine
So non-alcoholic wine usually sucks, right? The Carl Jung red has been my favourite so far! It is 'dealcoholized' so it still has the dry taste of real wine and it's only 40 calories a cup. It looks and smells like real wine, so it's perfect for those early days when you're still trying to keep your pregnancy on the down low. I also find this product at Loblaws stores.
8. Kinesiology Tape
I suffered with terrible sciatic pain for most of my second trimester—most days it was hard to walk, let alone sit or lay down comfortably. After some research I found that a medication-free option cheaper than chiropractors and acupuncture was kinesiology tape. A quick Google search revealed how to tape my baby belly to relieve pressure from my sciatic nerve. I couldn't believe the difference this tape made within the first day. I am now 8 months pregnant and haven't had any back pain since I started taping (unless I do something I shouldn't be doing to hurt it). I get my kinesiology tape from Amazon.ca for $17.99 for two rolls. They have tons of fun colours to choose from—I usually get pink or lime green! You can grab some HERE.
9. Live Clean Foaming Coconut & Vanilla Hand Soap
With pregnancy comes peeing all the time. Even if my bladder can't possibly be full, I still need to pee. I found my hands were becoming really dried out with all the hand washing. This is the one hand soap that hasn't irritated my hands. I absolutely love Live Clean products—they are always so moisturizing and smell amazing. I find mine at Shoppers Drug Mart.
---
Hi there! I'm Nicole Lemke, owner of Tranquility by Nicole. We started out two years ago as Lush Lashes by Nicole and have since re-branded with the addition of our brand new home spa and mobile foot care nursing. I am a Registered Nurse and graduated from Trent University's Compressed Nursing program in 2015. It has always been my dream to open a spa and help others. I am a certified Lash Technician from Lashes by Design. I am also certified in Indian Head Massage techniques through Clinic Wise. I have completed my Basic, Advanced, and Diabetic Foot Care Nursing Certificate from Durham College. I recently spread my wings and have decided to focus 100% on building my business from the ground up!
As many of you know, I have an amazing hubby named Jeremy and the cutest Aussiedoodle on Earth named Gibbs! We live in a 'tiny home' in Peterborough, Ontario, which Jeremy has completely remodelled and made our own!
It is my goal to provide you with the best spa experience and care.
To connect with Nicole, head over to MAMASOUP!
Post Gallery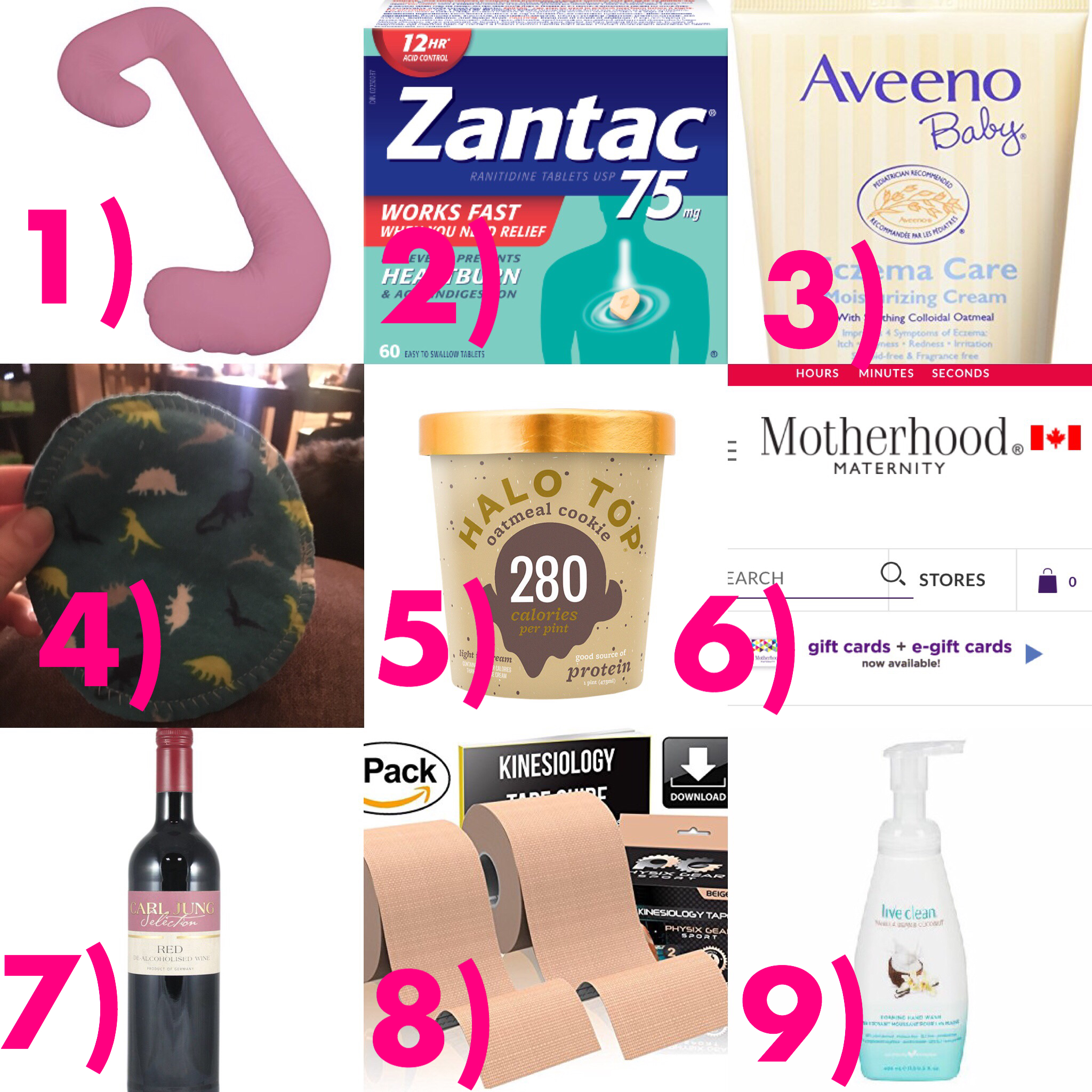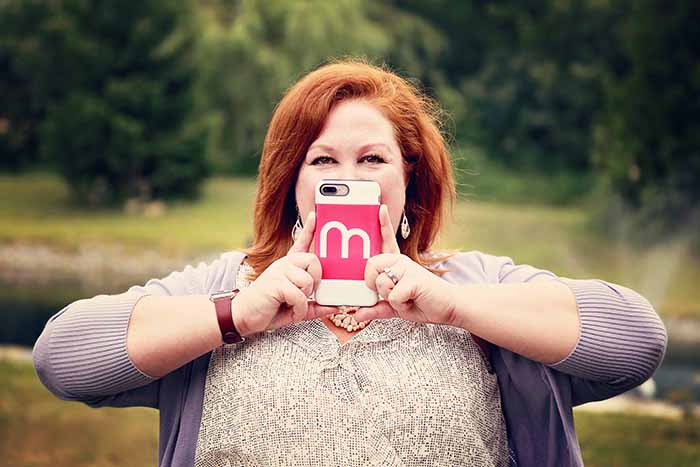 Joanne Ilaqua - CEO of MamaSoup
Hey there, I'm Joanne.
I've spent about 20 years serving women as a nurse, doula and Lamaze educator. I have 4 kids and I know firsthand how lonely and isolating motherhood can be, so I created MamaSoup. I'm mostly known for my love of red wine, spontaneously singing and my confidence in being my true self on social media. When I'm not busy building women up, you can catch me taking Instagram stories of my bulldog Ruby, watching The Handmaid's Tale, playing MUber (Mom Uber) to my kids or vacationing in my favourite town: Cabo San Lucas, Mexico.
I love serving the world by providing a space for moms to connect and support each other. In my opinion, moms are the backbone of communities because they are (literally) raising the future!

As the founder and CEO of MamaSoup, I've been featured on CHEX TV Morning Show, KawarthaNOW, Economic Development- The City of Kawartha Lakes and MyKawartha.

Still with me? Join me over at MamaSoup to keep the conversation going!
Read More